Nippon M-in-Wreath Chocolate Cups & Saucers Set of 2 HP Gold Floral 1911-1918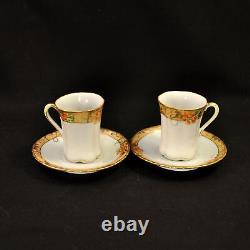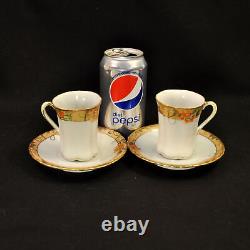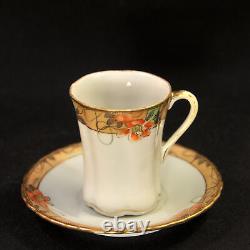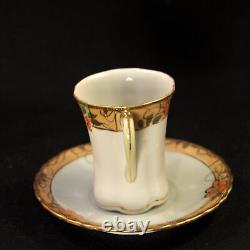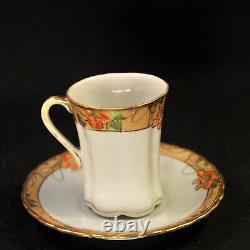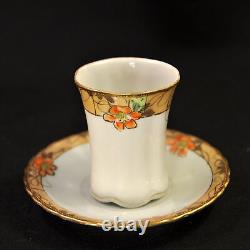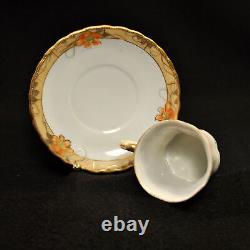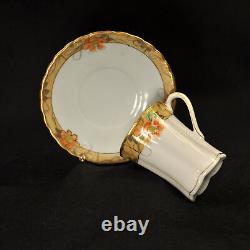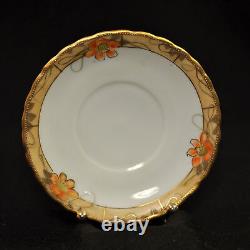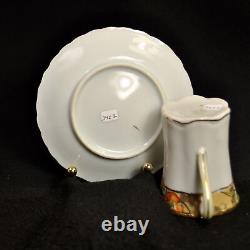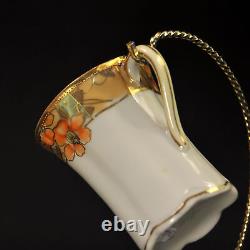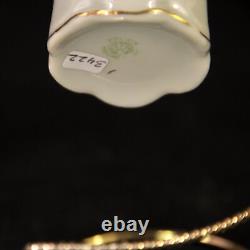 NIPPON Exquisite Decorative HAND PAINTED Set of 2 CHOCOLATE CUPS & SAUCERS , M-in-Wreath mark. ORANGE FLOWERS w/ GOLD OUTLINING & Small Gold BEADING, from Moraimura Bros. DESCRIPTION: The beautiful hand painted chocolate cup & saucer set of 2 was produced using a orange, gold & green on white color palette.
The gold is used extensively. There is a light orange band behind the floral sprays which draws out the color of the darker orange flowers that are outlined in gold. The rims are trimmed in a line of small raised gold beads on a gold band.
This is most elaborate and very eye-catching. CONDITION: While this chocolate cup & saucer set is classified as used, the condition is superb. We find it remarkable that the gold shows no wear. There are no chips, nicks, cracks, rubbings, scratches or hairlines.
See the photos to judge the overall condition for yourself. Formed the trading and decorating company in 1876 which evolved into Noritake.
Noritake Company has a rich history of producing fine bone china all the way from January 1, 1904 when the Nippon Toki Kaisha Ltd - the forerunner to the present Noritake Company - was formed in the village of Noritake, a small suburb near Nagoya, Japan. Registry for a Noritake backstamp for importing is 1911. The backstamp on this set is the green M-in-Wreath Mark. The M-in-Wreath Mark is attributed to Noritake and its forerunner in the 1890's to 1921 time period. Collecting Noritake A to Z Art Deco & More, David Spain shows that Noritake substituted Japan for Nippon in their backstamps starting in 1918. ABC's of Collecting Nippon Porcelain, Van Patten attributes the M-in-Wreath's mark #47 to since 1911. The cups have a worn M-in-Wreath stamp while the matching, hand painted saucers are not marked (which is not unusual). Please view all pictures carefully as they are part of the description. The stand was used as a photo prop and is not part of this listing. See additional international policies below.
This is ready to use or display with pride in your home. We strive to have satisfied customers. Please view each photo carefully.
We try to include enough information while noting any imperfections that we see. Request additional photos as needed.
We deal primarily with antique and vintage items. Since these items are of considerable age, normal age appropriate wear can be expected and the items are not "new" or necessarily in "perfect" condition. Listing and template services provided by inkFrog.