Very Rare Pouyat & Russinger Antique Empire Dore Cup & Saucer ca 1798 Neoclassic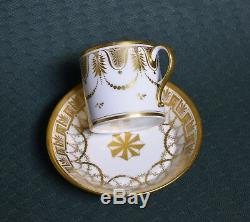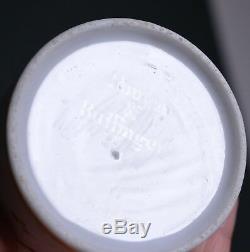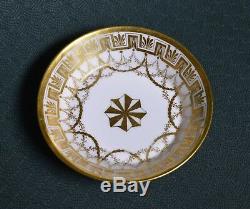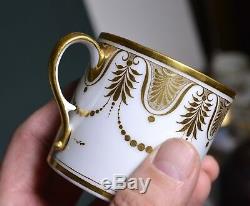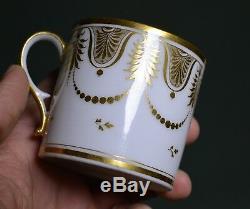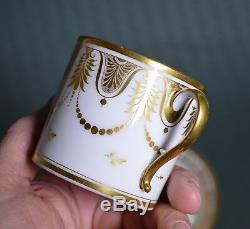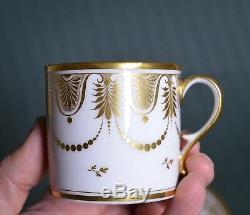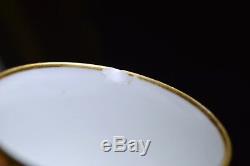 12,5 cm (4,9)diameter; 6 cm high (2,4); weight of 257 grams both. Please study goodresolution images for overall condition.
LaurentiusRussinger: His life and his work. With regardto the year of birth, however, the inscription of the sculpture is false becauseit was demonstrably baptized on 11 March 1739 in the St. Since the baptismal sacrament was usually donated at the time, ie onthe day after the birth, his birthday may be celebrated on the 10th. In any case, one can expect his birth in the first decade of March. Although the life data of the latter are unknown, but it is known that in 1756she married the working in the Hchst Porcelain Manufacture Shaper ChristophChristion Sehrder.
4The marriage of the sisters and his apprenticeship should have been related toone another. According topast practices, the apprenticeship took about five years. This is confirmed inthe mention of Russinger in the files of the company: As of August 30, 1759, heis listed as a "figurehead". There could be no talk of solidconditions. The continued existence of the production facility was in danger atrecurring intervals.
The work discipline left much to be desired. Thefts, drinking and love affairs poisoned the atmosphere. On January 11,1762, Russinger married Elisabeth Lauheimer, daughter of the Hchst citizenJohann Georg Lauheimer.
Just three years later, the couple's first child cameto the far. The boy was baptized on 8 October 1764 on the name lgnaz Christoph. A daughter Margaretha, who was born on April 27, 1767, died at the age of onlya few days on May 11 of the same year. The corresponding entries in theregister of the parish of his hometown Russians under the name fabricaeporcellanae hujatis plastes on. This probably corresponds to the pousirerlisted in the 1765 works.
So he acted as a Bossier, that is to say, he had thetask of assembling figures and other porcelain objects from preformed ordie-pressed individual parts. In return, Russinger undertook to give him 200livres per baking at a maximum of 60 bakings a year. However, thefinancial injection granted to the company only brought relief on time. Even the refusal of his adultchildren to pay the estate after the death of his second wife in 1798 had notbeen able to avert the bankruptcy of the firm.
The divestment contract is datedJanuary 8, 1800. In 1808, however, Russinger remained head of the factory, then he solved thecorresponding employment contract with his former partner. The company'sproducts, including figures made of biscuit porcelain, were provided with thestamp "Pouyat & Russinger", which had previously been used in redor gold, until 1803, when only the name Pouyats appeared there. ThePouyat family occupies a place of eminence in the history of French pottery andporcelain. Pierre Pouyat established a faience manufacturing company atSaint-Yrieix around 1760. His son Francois Pouyat (1752 - 1838), who owned claydeposits and clay works in the Haute-Vienne region, partnered with LaurentiusRussinger in Manufacture de la Courtille, a hard paste manufaturing business atthe Locre factory in Paris from 1795 to 1800. In 1800 Francois emerged as thesole owner of La Courtille, and his sons, Leonard and Jean-Baptiste joined himin operating the factory. In 1816 the two Pouyat brothers formed a partnershipwith the owner of a factory in Fours to produce porcelain for decoration inParis. They bought the factory in 1820, and Leonard Pouyat directed operationsuntil his death 1845. The Fours factory continued in production until 1865. However, Pre Francois Pouyat was not yetfinished in the porcelain business.
He opened a small factory in Limoges in1832, and then in 1835 he bought a clayworks and porcelain workshop establishedin Saint-Leonard, near Limoges. Jean-Baptiste joined his father at thisoperation and in 1840 succeeded him as head of operations. In 1844Jean-Baptiste enlarged the Limoges factory, which was employing approximately127 workers. This factory made porcelain of exceptional whiteness and eventexture.
The pieces decorated at the factory were renowned for their artistryand elegance. Comolera, a modeller, provided designs for Pouyat for over 20years. Jean Baptiste Pouyat was succeeded by his sons Emile (1806-92), Louis (b1809) and Leonard-Eugene (1817-76). Emil trained at the Locre factory (Paris)and was head of the Limoges factory from 1849 to 1883. William Guerin purchasedthe Pouyat Limoges factory in 1911. Our store is located in the beautiful city of Stockholm. Useful to mention that we are trying to acquire wonderful art and antiques throughout Scandinavia.
We own all necessary equipment for making firm and reliable packaging. We do appreciate your questions and inquiries, concerns and ideas! We cordially thank you for your time and wish you good luck in winning these auctions! The item "Very Rare Pouyat & Russinger Antique Empire Dore Cup & Saucer ca 1798 Neoclassic" is in sale since Friday, April 5, 2019.
This item is in the category "Antiques\Decorative Arts\Ceramics & Porcelain\Cups & Saucers". The seller is "scandinaviantique" and is located in Stockholm. This item can be shipped worldwide.
Style: Empire
Age: Pre-1800
Primary Material: Ceramic & Porcelain
Original/Reproduction: Antique Original
Type: Cup
Color: Gold
Country/Region of Origin: France