Chocolate Cups & Saucers RS Germany Set 3 Orange Poppy Sprays withGold 1910-1945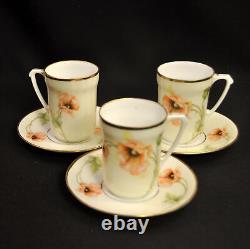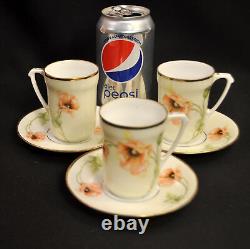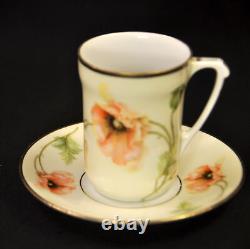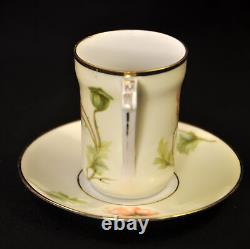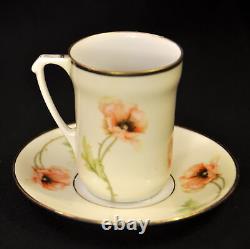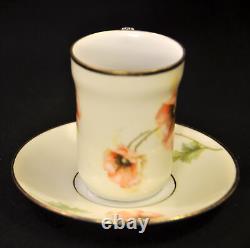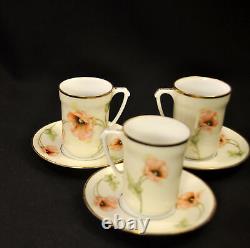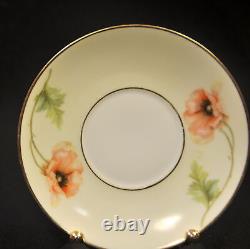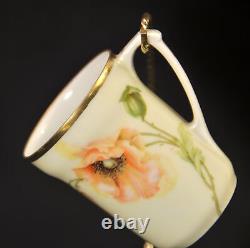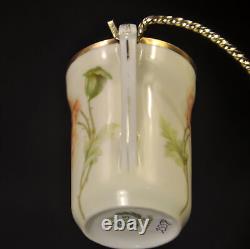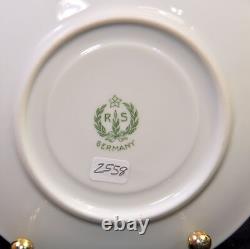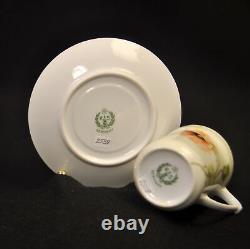 Exquisite Decorative Set of 3 CHOCOLATE CUPS & SAUCERS. DESCRIPTION: The beautiful hand decorated chocolate cup & saucer set was produced in with beautiful large flower sprays of orange poppy flowers with leaves & buds. The design looks so classic. The floral sprays are on light ivory with the interior of the cup as well as the well of the saucer being white. The handle is trimmed in gold as are all rims. Both the cup and saucer are smooth rimmed. Notice the art deco design of the handle and the interesting bulge just below the rim of the cup. This makes a beautiful display set or can be used everyday. CONDITION: While this set is classified as used, the condition is superb. There are no chips, nicks, cracks, rubbings, scratches or hairlines.
There are no utensil marks & only very minor wear to the gold on the handles. DIMENSIONS: The cups have a diameter of2 1/4" with a height of 3".
The saucers have a diameter of 4 5/8" and height of 9/16". These are delicate, weighing only 4.2 ounces each. HISTORY/MARKS: The "RS" initials stand for Reinhold Schlegelmilch, founder of the porcelain factory specializing in hard paste porcelain at Suhl in Prussia which is present-day Germany. The work of his two sons, Arnold and Erhard, made the mark bearing his initials famous.
Arnold operated the Suhl factory while Erhard established a porcelain factory in Tillowitz, Germany in 1894. Arnold closed the porcelain factory in Suhl in December 1917, due to World War I and a shortage of people skilled in the making of such hard paste porcelain. He joined Erhard at the Tillowitz factory which operated as part of Reinhold Schlegelmilch Enterprise until the death in 1934 of both brothers. The factory in Tillowitz remained opened under Schlegelmilch control (under sons of Arnold and finally Arnold's granddaughter) until 1945 when it came under the administration of Poland after WWII. This is mark #8 in Collector's Encyclopedia of R.
Prussia, 4th edition by Mary Frank Gaston. Please view all pictures carefully as they are part of the description. The stand was used as a photo prop and is not part of this listing. See additional international policies below. This is ready to use or display with pride in your home. We strive to have satisfied customers. Please view each photo carefully. We try to include enough information while noting any imperfections that we see. Request additional photos as needed. We deal primarily with antique and vintage items. Since these items are of considerable age, normal age appropriate wear can be expected and the items are not "new" or necessarily in "perfect" condition.
Listing and template services provided by inkFrog.