Haviland 4 Cups & Saucers Schleiger 52 Pink Flowers withGold on Handle 1894-1931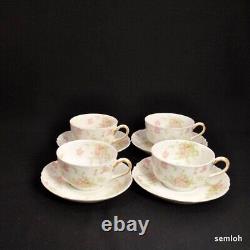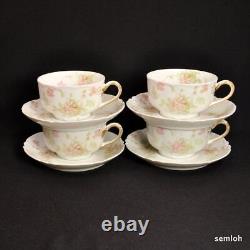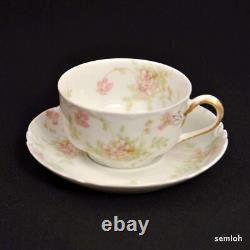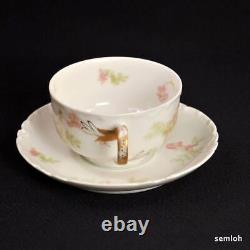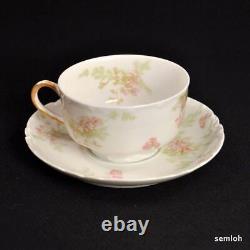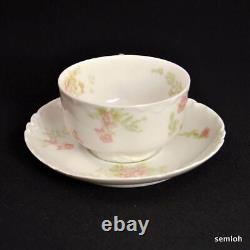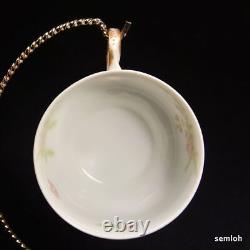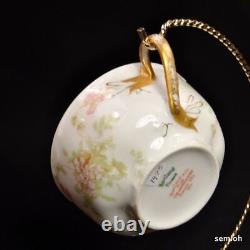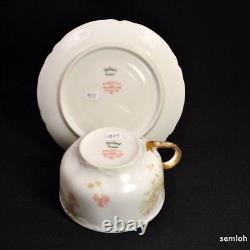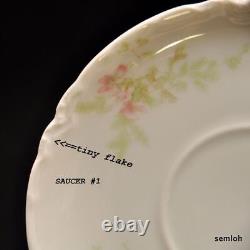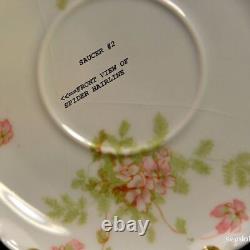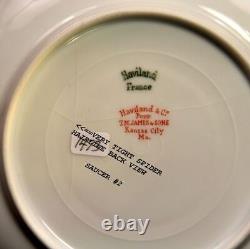 A beautiful HAVILAND & Co. DESCRIPTION: This is Schleiger pattern #52 with no trim and sponged gold on the cup's handle. The handles flare to the right and left with a fanciful gold ribbon.
This is on the Ranson blank #1. The pink flowers have some green in the centers and some of the green leaves are outlined in brown. The key to identifying this pattern is the green ferns in the background.
CONDITION: While this cup & saucer set is classified as used, it is overall in good condition. Two of the saucers have areas of concern. The saucer labeled #1 has a tiny "no see" flake which you can find by feel. The saucer labeled #2 has a very tight spider hairline which is on both the front and back. See photos #11 & 12.
Neither of these affect the functionality of the saucers. Otherwise, we can find no chips, nicks, rubbings, scratches, cracks, hairlines, or repairs. There appears to be no wear to the gold on the handles and no wear to the pastel colors and no crazing. The set is beautiful and dainty.
DIMENSIONS: The saucers have a diameter of 5 3/8" and a height of 3/4". The cups have a diameter of 3 7/16" and a height of 2". HISTORY/MARKS: The American-born David Haviland settled in Limoges, France in 1842 operating a porcelain exporting business to the USA. In 1847, he established a decorating studio in Limoges. He started producing porcelain in Limoges in 1865 and decorating it on site.
His sons, Charles Edward and Theodore, continued the prosperous business after David's death in 1879. Theodore left to establish his own firm in 1892. Charles Edward continued Haviland & Co. Until his death in 1921. In 1941, Theodore's son, William, was able to obtain the rights to the old Haviland & Co.
Marks and molds and the company was reorganized as Haviland & Co. William retired in 1957 and the company was carried on by his sons. When the sons retired in 1972, management of the company was turned over to the Cerabati Group under the name of Haviland SA. The company remains in business today. Also, there is the red overglaze decorator's mark Haviland & Co.
Identifying the importer as T. James & Sons of Kansas City, Missouri. Thomas Martin James (an uncle of the outlaws Frank & Jesse James) founded his store in 1863 as a wholesale supplier of china and white granite goods in Kansas City, Missouri after moving there in March 1851 from Kentucky. The "& Sons" was added in 1878 when John Crawford James and Luther Tillman James joined their father in running the store.
The store at 1022 Walnut Street was a wholesale and retail dealer in crockery, glassware, cutlery and direct importers of British, German and French china. Please view all pictures carefully as they are part of the description.
The stand was used as a photo prop and is not part of this listing. See additional international policies below. This is ready to use or display with pride in your home. We strive to have satisfied customers. Please view each photo carefully.
We try to include enough information while noting any imperfections that we see. Request additional photos as needed. We deal primarily with antique and vintage items. Since these items are of considerable age, normal age appropriate wear can be expected and the items are not "new" or necessarily in "perfect" condition.
Listing and template services provided by inkFrog.